New Music Round-Up
Speaking of the Condo Fucks, their new covers album
Fuckbook
isn't that great, but I guess it's not supposed to be. The trio, who are and are not the same band as Yo La Tengo, blaze through some raucous garage rock versions of lesser-known songs by well-known musicians (Elvis, Richard Hell, The Flamin' Groovies), seemingly in one long take. It's everything you'd expect from the title, which is pretty clever (YLT once released a covers album called
Fakebook
). It is so excessively ramshackle as to be innocuous, but also a nice reminder of Yo La Tengo's rockin'er ambition(lessnes)s, and of the fact that Ira Kaplan's praise of the Bad Brains in the liner notes for that band's 1982 debut was more than academic.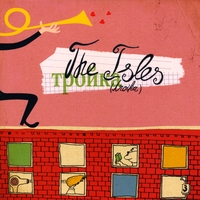 The Isles'
Troika
recalls the good old days of Aztec Camera, Prefab Sprout, Felt, Orange Juice, and The Smiths, with a small debt to Beat Happening. But while I'm making imperfect comparisons, I'll mention The Dears, a Canadian band whose music channels a later era of Brit-pop—Suede, Radiohead, Manic Street Preachers. Like The Dears, The Isles aren't especially derivative, but they give the impression that they've had a dream of the ideal pop music, and upon waking can't get it to sound quite as good. So
Troika
may only be 75% of the way there, but it's well worth your while.
[mp3]
The Isles - "Fall of the Favorite"
Continuing our trajectory toward the very best new music, here's my album of the moment: Jeremy Jay's
Slow Dance
is the one (they come along every year) that has helped make tangible, more than the weather, the impression that spring is here. As with last year's "Alpharhythm" single, Jeremy Jay still wants nothing other than to dance, but these songs pulse with deeper emotion, as melancholic as the best of Lou Reed's
Transformer
or Jonathan Richman's early somber ballads. Like all the best pop music, the songs could not be simpler; occasional synths keep things interesting, and while Jeremy Jay has as unremarkable a personality as Lou Reed, his voice will make you hang on every word. Calvin Johnson produces, and does percussion on this one:
[mp3]
Jeremy Jay - "Will You Dance With Me?"
I love it for the music, but mostly for the cover:
What happened to the days when iconic artist photos were all one needed to sell an album?
Lastly, the new Patrick Wolf video is great, as wonderfully vain as ever.