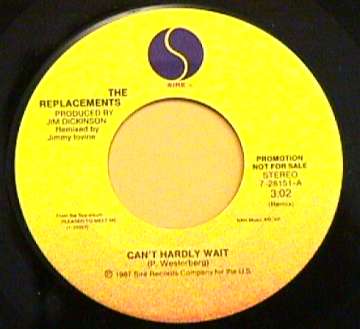 the folks at rhino were kind enough to send wmcn the second batch of
replacements
reissues, which cover the years the boys were on warner subsidiary sire records. like the twin-tone covering first reissues, they're nicely done, from the liner notes to the bonus tracks to the packaging.
at least numerically, the defining track of this period, which covered 1985-1990, is "
can't hardly wait
" (four versions are included). the "
pleased to meet me
" album-closer is a classic, of course--recorded in memphis with big star producer jim dickinson, the song actually has horns and strings!
better to my mind, however, are two alternative versions. the first, on the "
all for nothing/nothing for all
" comp, is the "tim version", which sees the song as a typical dose of mats-ian drunken thunder. not uncoincidentally, the track features the guitar work of the late and still dearly missed bob stinson. just as cool is a demo paul westerberg made of the track included on the "
tim
" reissue. someone had the awesome idea to record in an echo chamber, and the reverb-laden, sparse shuffle of this version works quite nicely. both alternative versions have slightly different lyrics than the one that ended up on "pleased to meet me".
hurry up hurry up you ain't had enough of this stuff:
[mp3] "can't hardly wait" (album version)
[mp3] "can't hardly wait" (echo chamber demo)
[mp3] "can't hardly wait" ("tim version")